A shared love of Georgian folk song brought a group of Conservatoire students together in 1987. Their aim was to study Georgian traditional song, both well-known and lesser known examples. Malkhaz Erkvanidze, Davit Zatiashvili, Guram Gagoshidze, Rezo Kiknadze, Davit Shughliashvili are the first five members of the choir; some time later, three other members joined the group. Zaal Tsereteli (mathematician and programmer by education), Temur Imnadze and Alexandre Khakhishvili – Conservatoire students.
A very important priority for the young singers was to select their repertoire from recordings of old folk singers, where they could find a number of examples, not performed by any contemporary folk groups. A large place in the repertoire of the choir was occupied by songs of renowned folk singer Benia Mikadze (from the village of Kulashi, Samtredia District) and his choir "Sanavardo", as Malkhaz Erkvanidze, "Anchiskhati's" young leader and Benia Mikadze shared the same village roots.
Alongside learning songs, an interest in learning old, forgotten traditional polyphonic church hymns soon emerged. This became possible thanks to several collections of transcriptions of Georgian chants published at the end of the 19th century and preserved at the Georgian Folk Music Department of Tbilisi State Conservatoire. From these very collections, the group of students (yet to give themselves a name,) started to learn Easter chants. Very soon they were given the opportunity to chant in services at the church. The choir went toBetania Monastery on April 10, 1988 to chant the Easter liturgy.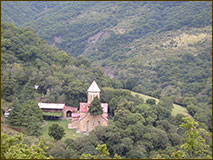 Despite their début, there was an amazing atmosphere at the church. Everybody was enchanted by the tunes glorifying God, so strange to their ears, but so close to their hearts, memory traces of which had been left by the ancestors. That Easter day can be marked as the return of Georgian traditional church chanting to Georgian liturgy.
A week laterPatriarch Ilia II of Georgia, invited the young choir to his place of residence. The first chant that was chanted for their esteemed host was Kriste Aghsdga from the Shemokmedi School of chant. At this point in time, Pentecost was approaching. For this holiday the blessing and opening of Anchiskhati -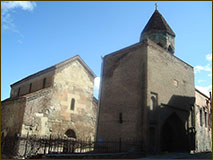 the oldest church in Tbilisi was planned. At this very meeting it was decided that the young choir be appointed as the Anchiskhati church choir. From that day on, the choir acquired the name "Anchiskhati Church Choir".
The revival and renaissance of Georgian church chant, neglected over several generations due to Soviet atheistic censorship, started with the study of thousands of chant transcriptions at the initiative of the young Anchiskhati Church Choir; this initiative was supported both by the Head of the Georgian Church and by the clergy of the newly opened Anchiskhati church, which greatly contributed to the success of this initiative.
Very soon the choir and what is more important the old, half remembered, Georgian chant gained love and popularity among the parishioners. This in turn led to the appearance of many followers of the choir on the one hand and new members seeking to join the choir on the other hand. Among these were young people of various professions who greatly admired chanting, such as Vasil Tsetskhladze (musician), Mamuka Kiknadze (architect), Grigol Bulia (a student of theological Seminary). Georgian traditional chant began to spread its tendrils all over Georgia. This process was also greatly supported by visits of the choir to different parts of the country. By that time Anchiskhati church choir had already published its first record entitled "Aghdgomasa Shensa" (1991) which included Easter chants from various schools.
Anchiskhati Church Choir started a new stage of its activity after it was joined by a group of friends: Gocha Giorgadze (iconographer), Davit Megrelidze (architect), Levan Veshapidze (ethnomusicologist), Gocha Balavadze (artist), Nikoloz Beriashvili (geographer). This initiative of Malkhaz Erkvanidze - the choir leader was driven by the wish to perfectly present Georgian folk song repertoire and its diversity. This expanded choir of 12 singers, was then able to revive and learn a number of Georgian folk music examples, such as "Naduri" a variant of the village Dutskhuni , "Khasanbegura" a variant of the Khukhunaishvilis, together with a number of city songs, such as "Gvimgheria", "Gazapkhuli", etc.
When learning a folk song the choir focuses first and foremost, on the manner of the traditional performance and on the authenticity of scale and intonation of the original song. . This very factor distinguishesAnchiskhati Church Choir from the performance styles of other choirs. It should be mentioned that from this standpoint the choir already had a good example in the form of ensemble "Mtiebi" directed by Edisher Garaqanidze, the first to introduce and instill authentic village manner of performance on stage. This undoubtedly was a big stimulus for the choir. At the same time it can be said, that Anchiskhati played an influential role in the creation of new ensembles and, helped forge their performance manner.
In 1993 the choir went on its first concert tour outside Georgia - in Greece. This was a truly memorable tour for "Anchiskhati". They held several concerts and took part in New Year's liturgy at the Cathedral Church in Athens. From this beginning, regular concerts tours to various countries took place: Germany, Austria, France, Poland, Great Britain, the USA, Canada, Italy, Switzerland, Russia, Armenia, Latvia, Sweden and Lichtenstein. The choir's performance always inspired audiences. Thanks to "Anchiskhati" and other Georgian folk groups many foreigners were given the opportunity both to sense and appreciate the beauty and depth of Georgian songs and chants.
"Anchiskhati's" first CD was published by a Canadian Company "Deep Down Productions". Anchiskhati's solo CD collection now exceeds a dozen.
Separate mention should be made of collections of transcriptions, published by Anchiskhati singers and edited by Malkhaz Erkvanidze, who published a 5 volume collection including hundreds of chants. Now these collections form a basic instruction manual for beginners and professional chanters and chanting choirs. A collection of chants of the Shemokmedi School, published by Davit Shughliashvili is another manual for chanting, which occupies a distinguished place. Dozens of Gurian folk songs have been transcribed by Levan Veshapidze, thus creating an excellent source book for both Georgians and foreigners who love songs of this part of Western Georgia.